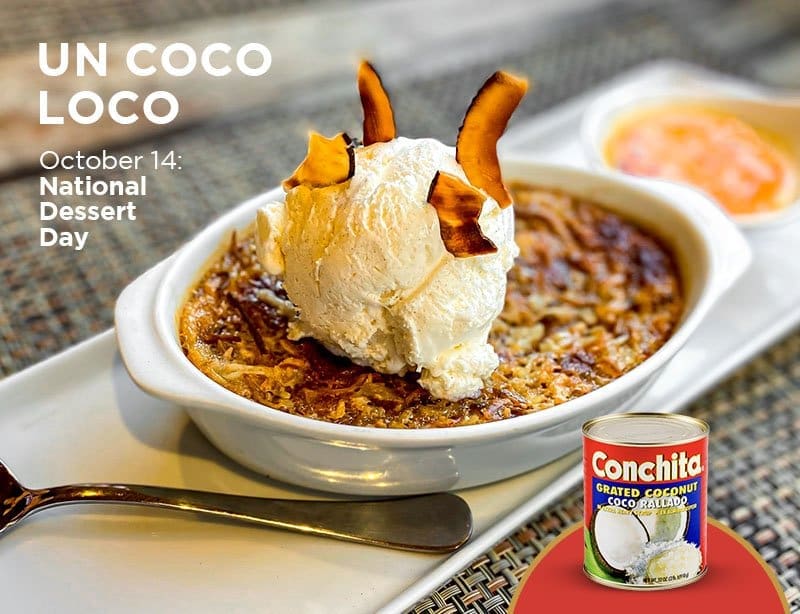 The Coco Quemado is a traditional Cuban dish that's a hit for all ages. It's a classic after a family lunch on Sunday or as an afternoon snack for the kids. It's extremely sweet, delicious, and made with just a few simple ingredients.  
Traditionally, coco quemado is made by boiling sugar and water over the grated coconut. However, if you want to save time, a more straightforward way is to use Conchita's Grated Coconut in Extra Heavy Syrup and avoid grating the coconuts yourself.
One 17-ounce Conchita's Grated Coconut in Extra Heavy Syrup, undrained
1 stick cinnamon
Pinch of salt
4 large egg yolks
2 large eggs
4 tablespoons salted butter at room temperature
½ cup slivered blanched almonds
OPTIONAL: Whipped cream or ice cream
In a heavy, medium-size saucepan over low heat, heat the coconut and its syrup, cinnamon stick, and salt, stirring, until it comes to a boil. Remove the cinnamon stick and allow the mixture to cool at room temperature. 
Preheat the oven to 330° F. In a large bowl, beat together the egg yolks and the whole egg. Add the eggs and butter to the cooled coconut mixture and mix well. Pour the mixture into an 8×8-inch baking dish, sprinkle the almonds on top, and bake until browned and crisp on top, 30 to 40 minutes. Allow to cool, cut into squares, and serve with whipped cream.
Serves 8 to 10 portions